The WPI combustion lab studies fundamental problems related to combustion, explosion and fire safety. The lab is run by Prof. Ali Rangwala and located in Salsbury Lab 214 on the WPI campus. The current laboratory manager is Mahesh Kottalgi (2019). Past lab managers: Mahesh Kottalgi (2020 - 2023), Fritz Brokaw(2019), Trevor Borth(2016 - 2018), Ray Ranellone (2016), Hamed Farahani (2016), Xiaochuan (Lydia) Shi (2014-2016), Ray Ranellone (2013), Brian Elias (2013), Kulbushan Joshi (2012), Scott Rockwell (2009 - 2011).


Current Research Projects:
Laminar and turbulent burning velocity of particle-gas premixtures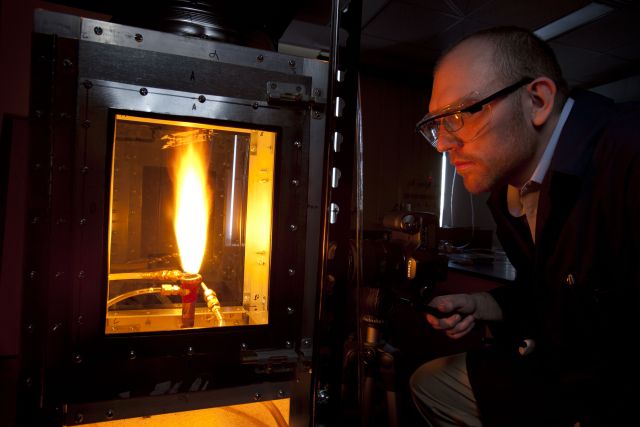 The fundamental physical parameter that controls the damage potential of an explosion is laminar burning velocity. The laminar burning velocity is defined by particle entrainment (particulate mechanics, aerodynamics), gasification (heat and mass transfer) and combustion characteristics. This is a parameter poorly understood for dust air mixtures and current assessment methodologies leave an enormous gap when establishing the link between this fundamental variable and design criteria for ventilation and seals as well as methodologies for prevention and damage control. We are currently designing a premixed burner, similar to the common Bunsen burner used in chemistry laboratories, but with the capability of naturally entraining dust particles rather than air. The burner will be used to obtain the burning velocity of a dust-gas mixture; a fundamental quantity that relates directly to the pressures generated during dust deflagrations. The figure shows the "Rockwell Hybrid Flame Analyzer."


Burning behavior and spread of crude oil slick fires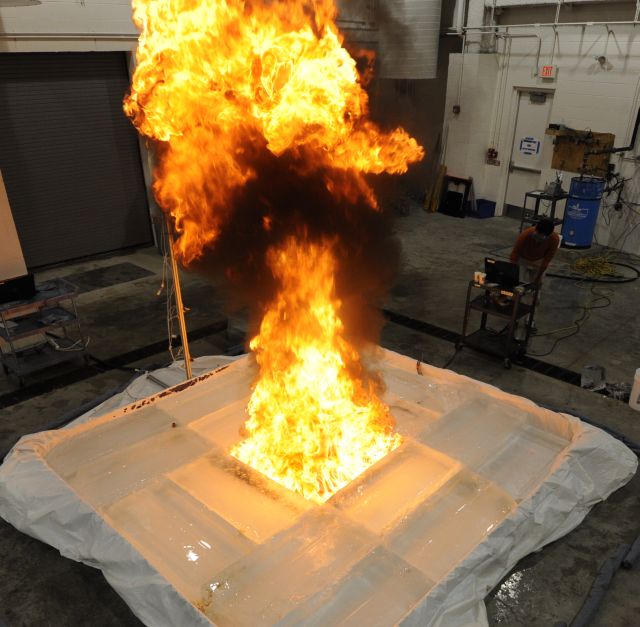 The topic has high impact in today's oil and gas industry and is relatively unexplored. The project was initiated by an MS thesis study by Peter Bellino sponsored by Aleyska Pipeline. Peter showed that an in-situ burn under icy conditions shows unique phenomena such as geometry changes due to ice melting and enhanced Marangoni convection effects causing cavity formation.Additional details can be found on our joint website related to this project: http://www.isboil.dtu.dk/. The figure shows a large scale burn of crude oil in a one square meterice cavity.


Flammability of portable gasoline containers (PGC)
This project is sponsored by the American Society of Testing and Materials (ASTM) and involves analyzing the flammability hazard associated with household portable gasoline containers. The MS thesis student on this project, Brian Elias, has published one peer reviewed paper (B. E. Elias, R. G. Zalosh, and A. S. Rangwala, "Portable Gasoline Container Headspace Flammability," Fire Safety J. Vol. 58, pp. 248-257, 2013) related to the study.


Battery fires
Graduate students Sreenivasan Ranganathan and Hamed Farahani performed ignition and burning behavior of batteries in Mar 2013. The experiments were performed with guidance from Prof. Yan Wang in ME. They were featured in a video documentry. A short snippet can be downloaded in the link below.

Battery Test Video
---

Students interested in working in the lab need to fill out the forms listed under laboratory proceedures and go through the appropriate training. Forms can be found under the Lab Documents link.

For groups interested in the combustion field, lab tours and demonstrations are avaliable. Please contact Dr. Rangwala for further information.